Facials are a great way to keep your skin glowing, but they can be pricey. Store-bought face masks are a great alternative, but sometimes you just want to save some money. So when you're looking for all the power of a great face mask on the cheap, it's time to get a little bit crafty in your kitchen and mix up the perfect DIY face mask using food you already have in your pantry and fridge. Making a face mask at home is easy and inexpensive, and you can store your concoction in a jar in the fridge so it's ready to go whenever you need a little extra something to spruce up your skin.
Woman's Day checked in with Louisa Macan-Graves, author of Hollywood Beauty Secrets: Remedies to the Rescue, and Elda Argenti, owner of the Plantogen skincare line, as well as several popular beauty and wellness bloggers, and asked them to share their favorite homemade face masks crafted from common household ingredients. Many of the following mask recipes only require two or three ingredients max, so when it comes to pampering yourself at home, ease is the name of the game. Get ready to take your face masking experience to the next level with these amazing DIY face masks:
Soothing Green Tea Face Mask for Inflammation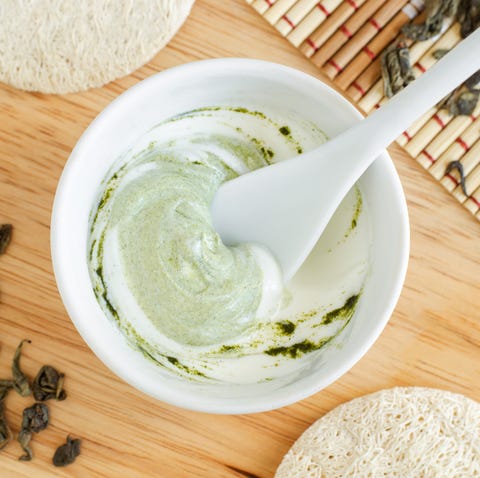 The ingredients:
Try Dossier's green tea mask to calm sensitive or irritated skin. Begin by brewing green tea in as little water as possible so it's highly concentrated. Then mix equal parts tea and honey together with a squeeze of lemon. Apply the mixture to your face and leave on for 20 to 30 minutes before washing with warm water. Prepare to feel super refreshed!
Hydrating Honey and Aloe Face Mask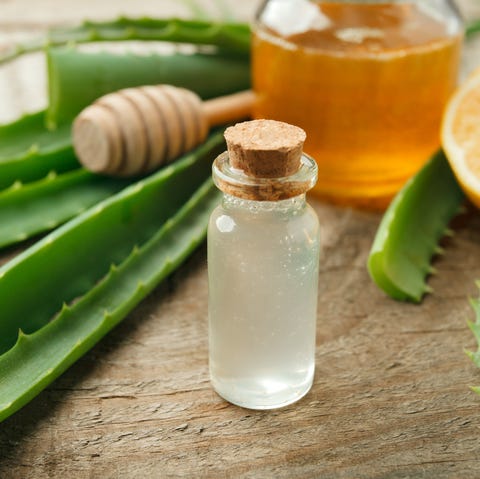 EKATERINA MOROZOVAGETTY IMAGES
The ingredients:
If you've ever felt the healing wonders of aloe vera applied on a nasty sunburn, then you know how amazing the plant's nectar can be. So turn it into a mask for ultimate skin hydration with this honey and aloe mask from Be Spotted. Just mix equal parts fresh aloe and honey; it's that easy! Leave on your face for 20 to 30 minutes and feel the life coming back to your skin.
Brightening Papaya Face Mask for Age Spots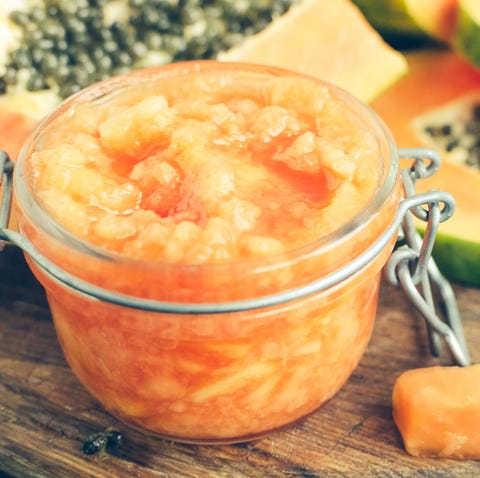 NELLISYRGETTY IMAGES
The ingredients:
Cut a slice of ripe papaya and remove the seeds and pulp (save the pulp for a snack later —it's great for digestion!). Rub the inside of the papaya peel on your cleansed face, focusing on lines around the mouth and eyes, crow's feet, thinning temples, neck and hands. Let it dry for 15 to 20 minutes, then rinse with tepid water. This mask can be done twice a week. "The enzymes in papaya exfoliate, repair sun damage, diminish age spots and smooth skin. Your skin will look brighter, with a more polished finish," Macan-Graves says.
Exfoliating Oatmeal Face Mask for Oily Skin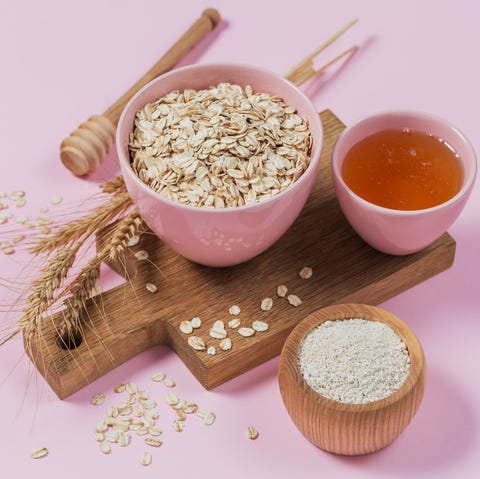 SVITTLANAGETTY IMAGES
The ingredients:
1 Tsp honey
1 Tsp olive oil
Packet of plain instant oatmeal
Combine honey and olive oil. Separately, prepare a packet of plain oatmeal, using less water than called for so it forms a thick paste. Next, add the honey and olive oil mixture to the cooked oatmeal. Apply as a scrub, gently rubbing it in small circles over your skin, avoiding the eye area. Rinse off with warm water and pat dry. This mask can be done twice weekly. "The oatmeal in this scrub exfoliates, while the honey and olive oil moisturize," Argenti says.
Cleansing Greek Yogurt and Olive Oil Mask for Acne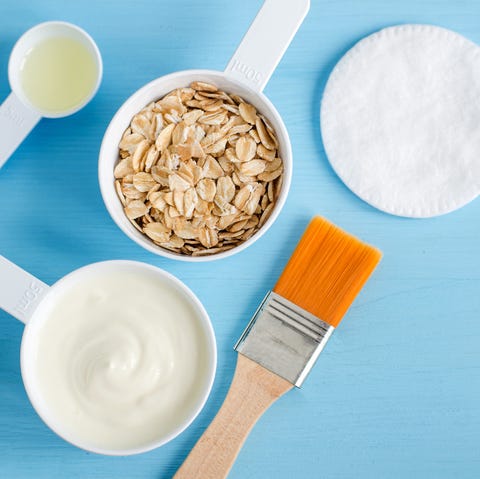 KAZMULKAGETTY IMAGES
culled from woman'sday.com by BY Annemarie Conte and Kelsey Hurwitz